Investing in real estate is a smart move. But not all investments are created equal.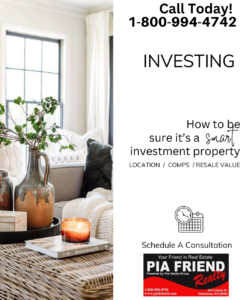 To get the most out of your money, you need to make sure your investment property is smart. That means making sure it's in the right location, well-priced, and has good comps (comparable properties). And if you want to sell it someday? Make sure that it will have a high chance of a great re-sale value!
Investing in real estate is a great way to build wealth—but only if you do it right. So find a local expert who can help you make sure your investment property is smart! Thankfully, we have many agents in our office that specialize in investment properties and can help you find your next investment TODAY!
Building wealth through real estate investment can be a great strategy, but it requires careful planning and a solid understanding of the market. Here are a few ways you can consider investing in real estate to build wealth:
1. Buy and hold rental property: This involves purchasing a property and renting it out to generate passive income. Over time, the rent payments can help build your wealth, and you can also benefit from appreciation in the value of the property.
2. Fix and flip: This strategy involves purchasing a property, renovating it to increase its value, and then selling it for a profit. This can be a good option for those who have experience in real estate and construction and are comfortable with taking on some risk.
3. Real estate crowdfunding: This involves investing in a portfolio of real estate projects, typically through an online platform, with as little as a few hundred dollars. This can be a good option for those who are looking to diversify their investment portfolio and want to get exposure to real estate without having to purchase a property directly.
4. REITs (Real Estate Investment Trusts): This option allows you to invest in a portfolio of properties through a publicly traded trust, without having to directly own the properties yourself. REITs typically provide exposure to a diverse range of properties and are a good option for those who are looking for a more passive investment.
It's important to keep in mind that any investment carries risk, and real estate is no exception. Before investing in real estate, it's a good idea to do your research, consult with a financial advisor, and understand the risks and benefits involved.
Make an appointment today to strategize your investment portfolio and start building generational wealth today.
524 Liberty St.
Oskaloosa, KS 66066
1-800-994-4742