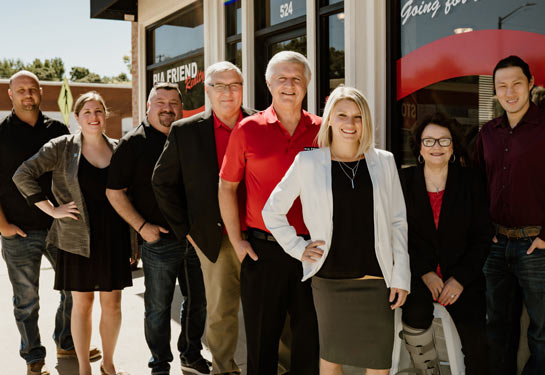 Welcome to your one-stop source for real estate services covering all of the NE Kansas and NW Missouri Areas. Real estate is one of the most exciting investments one can make, and it should be a fun and rewarding experience. Here you'll find everything you'll need to buy or sell a home, as well as learn about the market value of homes you may own in the area.
Pia Friend Realty is a brokerage headquartered in Oskaloosa, KS. Established in 1999, Pia Friend Realty has over 18 agents with their KS and MO Real Estate Licenses to meet all of your needs. Whether looking for assistance with Land, Residential, or Commercial we have an expert in each area to guide you through the process.
Our Mission
It is our goal to provide you with superior service at all times. With over 20+ years in the real estate market, our established company has the experience, drive, and resources to provide you with top-notch service and expertise. We are known for our quick response time and ability to find properties that meet each of our clients needs.
We value our clients and take the time necessary to make sure that they are educated throughout the process of buying and selling property. It is our goal to ensure that you are comfortable throughout the process. Let our expertise go to work for you.
Industry Leader
This brokerage started out in a small town with 1-2 agents, but has expanded over the years to include multiple agents assisting clients nationwide. We tailor to KS and MO properties, but have always prided ourselves on assisting our clients who move out of state or assist clients moving into our state. Many clients have referred our agency multiple times because we are responsive and knowledgeable about the areas we serve. We treat each client like our own 'Friend' and will do the same for you. Pia Friend Realty has won multiple awards over the years, and still continue to grow.
Anderson Silver Award
Masters Club Bronze Award
Multiple agents with Million Dollar Club awards each year
Agents who have been nominated for Top Salesperson in Lawrence Awards
Over $152M in sales production for the lifetime of the company
Marketing
We cover a large territory in KS and MO, with multiple agents covering different areas. We ensure our clients of maximum coverage by belonging to the top 3 Multiple Listing Services in our area: Sunflower Association of Realtors, Lawrence Board of Realtors, and Kansas City Regional Association of Realtors/Heartland MLS. Our website is Nationwide, and we belong to many different online sites and utilize social media to expand our reach for potential buyers and sellers looking to move. Each property that we list is handled specifically to fit our client's needs, and the marketing is tailored to what will help sell the property the best. We take a unique approach mixing old school fundamentals with new high tech techniques. Door knocking to online advertising, our agents know how to utilize resources and find properties that may not even be listed yet. Meet with us today to learn more about how Pia Friend Realty powered by The Gerety Group can go to work for you!